2020-06-30
Restaurant Cimory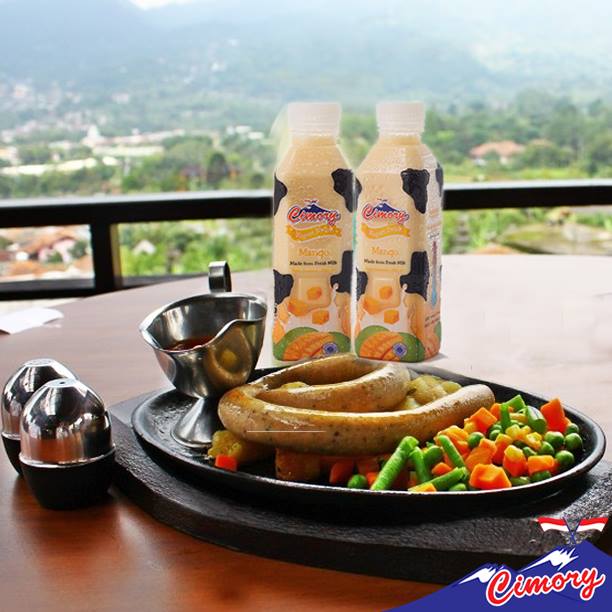 Cimory restaurant is family-oriented restaurant that combines food with entertainment. They are famous for its milk. Who doesn't like Cimory milk? In Puncak Bogor, there are two locations of Cimory: Mountainview at KM 77 and Riverside at KM 76. They are not far from each other, only 1km distance. These two Cimory restaurants offer similar experience, however they are different in certain ways. The Mountainview offers mountain scenery, while the Riverside provides river scenery. As the two restaurants sell the same food with the same price, this blog will only cover the Riverside restaurant. There's no entrance fee to see fantastic view of the river, just need to pay for the food or additional attractions.
Cimory Riverside
Cimory Riverside, started in 2004, is built around the river, specifically the Ciliwung River. The water is quite clear. Water level will vary depending on the season, dry (Apr – Oct) or wet (Nov-Mar) season.
Visitors can walk along the walkway on the side of the river. About 30-40 meters out of 120 meters can be accessible by the visitors of the restaurant. We can take photo and enjoy the river view. There is a safety barrier along the walkway to prevent visitors falling into the river. At night the riverside looks very nice with lighting. The river is wide, around 30 meters, which can be crossed by the bridge. You can cross over to the other side to see a mini zoo.
Food
Cimory offers a concept of family restaurant where everyone can enjoy affordable food. It offers three types of cuisine: Indonesian, Oriental, and Western, with extensive items in their food menu. A lot of visitors come to Cimory Restaurant to try their specialties, meat-based dishes. For Western food, Cimory offers 30cm chicken sausage in spiral shape. For Indonesian food, it is Iga Bakar and Iga Kuah.
During weekends and public holidays, it can be very packed, not easy to get seats. We recommend visitors to arrive early in order to choose the best seat, otherwise guests must wait for the seat vacancy. The best view inside the restaurant is from Level 2, specifically the Terrace area where you can eat to enjoy the view of the river at the same time. A lot of people request for this seating arrangement. There are 3 levels in total for the Cimory Riverside. There are smoking and non smoking area. From the restaurant, visitors can also listen to the calming and relaxing sound from the water flow of the river, no need to step into the nature.
They use imported beef from Australia which is processed locally in Tangerang. The sausage is produced without preservative as Cimory wants everyone to eat healthy food. In addition to the food, they also sell milk- based drink, e.g. milk, milkshake or yogurt. They are produced in their own factory in Sentul.
Activity
Cimory Riverside has various mini attractions for its visitors, such as mini farm, painting museum, milk factory, etc.
Here are some of them:
Mini Zoo inside the Forest Walk - Visitors can see rabbit, deer, birds, fish pond and cow. You can try to feed the cow. There is a mini farm where you can see cow inside the farm. However, the visitors must join group tour, minimum 25 people. Visitors can see how they squeeze the cow, process the milk, and watch a short film. With entrance fee, visitors can get free yogurt.
Kids playground in the basement - Kids can ride on the small cow. Parents need to supervise so the kids don't fall down. Kids can play for free.
Souvenir Shop in the basement - You can buy official products from Cimory. In addition to dairy products, you can also buy traditional snack and toys, such as cute cow doll.
3D Printing Museum - There are various 3D printings to see on level 2. You can take photo with more than 50 pieces of 3D printings. Free chocolate bar with entrance fee.
Chocolate Factory on Level 3 - Visitors can learn process of making chocolate, from the ingredient, process, to packaging. There is a transparent glass barrier, so visitors cannot finger lick the chocolate.
Chocomory Shop on Level 3 - You can buy all chocolate products made by Cimory, such as chocolate bar, chocolate cookies, etc.
Choco University on Level 3 - Those of you who would like to learn in depth about chocolate can attend Chocolate Uni. However, it's only opened for kids. It costs Rp 150 ribu per kid for the duration of 5 hours, with minimum of 20 kids.
Website & Contact No & Social Media
Cimory Riverside: Jl. Raya Puncak, Km 76, Ds. Cipayung Kec. Megamendung, Bogor 16750 - (0251) 8252678. Cimory